Expert Installation & Maintenance of Indoor Air Quality Products
Is your indoor air quality (IAQ) healthy enough? If not, you may benefit from installing new IAQ products designed to help you breathe easier indoors. As expert comfort providers, Fricold Heating and Cooling is here to help make sure your air quality is the best it can be. We specialize in installing the latest IAQ products available, including smart thermostats and more.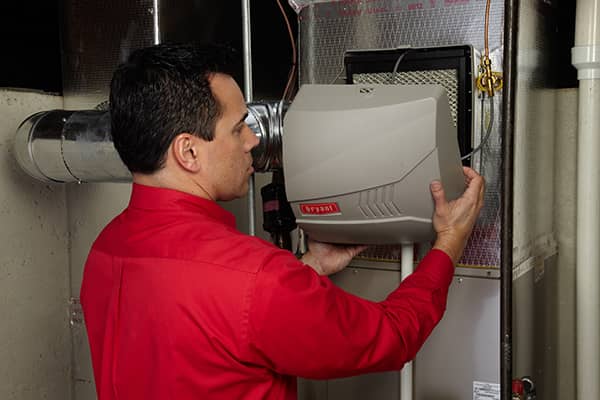 Testing Indoor Air Quality
The trained HVAC technicians at Fricold Heating and Cooling can visit your home or office and conduct a professional assessment of the building's indoor air quality. Signs you need a professional IAQ inspection include:
Health concerns (skin/eye irritation, sneezing, headaches, etc.)
Unpleasant odors coming from your HVAC system
Visible dust build-up and other allergens
Poor air circulation in any room
Pets in the home generating pet dander
If you see any of these signs or you know your home's air could be cleaner than it is, give us a call. We'll test the IAQ and suggest affordable solutions to improve your indoor environment.
RESPICAIRE OXY4
New IAQ Product Installation
You don't need to suffer from health concerns due to poor indoor air quality. Fricold Heating and Cooling offers affordable, effective IAQ products that will quickly clean and condition the air. Some of our most popular products include:
Bryant Air Filter Cabinet MERV 10
Bryant Air Purifier Evolution
Bryant UV Germicidal Lamps
Bryant By-Pass Humidifier
Bryant Steam Humidifier
In addition to installing these top-selling IAQ products, we specialize in installing and maintaining all major brands and types of IAQ equipment.
Contact Us Today for a Free Estimate
Considering the amount of time we all spend indoors, indoor air quality is crucial to our health at home and at work. Rely on Fricold Heating and Cooling for budget-friendly IAQ solutions you will love. Call us today at (708) 433-9319 or fill out the online form to get started!